Yes Jason! Please Rush Me My FREE Kit So I Can Take Control Of My Life And Kiss My Job Goodbye By Discovering...
"The Real Secrets That Most People Will Never Know About Making Money From Foreclosures... All In This FREE Kit!"
Dear Friend,
Hi, this is Jason Loucks. Your time is valuable, so I'll get right to the point.
If you're ready to start making BIG money from Foreclosures, working from home, without tenant headaches, risking money, or signing your life away, this might be the most important letter you'll ever read.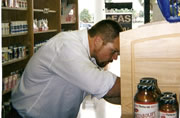 Here's me stocking shelves at the vitamin store all those years ago!
Years ago, while working at GNC (the vitamin store) full time AND going to college full-time (to be a teacher), I began searching for a way to make large amounts of money, that didn't destroy my marriage, my family, or my quality of life.
Like you probably have, I tried just about everything you could think of; stocks, options, Multi-Level Marketing, even climbing the corporate ladder (twice), just to have the companies lay me off or go bankrupt, or the market change for the worse every time it seemed I was finally getting somewhere.
Real Estate seemed to have everything I wanted, but I struggled for years, suffering from the "rentals and rehabs" trap that crushes so many peoples' dreams.
Finally, fed up, I switched gears, using completely new techniques I had to create from scratch, that turned Foreclosures into fat paychecks in my spare time..
And now I'm writing this letter to you sitting at my kitchen table, in my flip-flops and a T-shirt, where I have made an average of over $4,000.00 a day for the last 5 years from a completely different approach to buying and selling Foreclosures. I have achieved the "fantasy" of making a ton of money from a home-based easy, pleasant business, and I'd love to share it with you.

Quick, Before You Pre-Judge,
Here's What This Is NOT About:
· No Dealing With "Junk" Properties, And No Repairs Ever
· No Tenants or Landlording of ANY Kind
· No Cash Required
· No Credit Either
· No Holding Costs, and No Monthly Payments of Any Kind
· No Taking On Debt
· No Owning Properties as They Go Down In Value
· No Need For Seller Financing, or Asking the Seller to Keep the Loan in Their Name
These Are the Real Estate Secrets
That No One Else Will Tell You!
And in order to share with you how my system can do this for you, too, I've created an absolutely ground-breaking kit called, "The ULTIMATE Foreclosure Profit Machine" that explains the system in detail.
This kit includes a Free full length CD that will reveal how you can make a boatload of cold hard cash buying and selling foreclosures and pre-foreclosures, without being a landlord, without borrowing money, and without tenants, banks, good credit, or rehabbing anything.
Dear Jason,
Just wanted to write you a quick note and let you know how awesome I'm doing, and thank you thank you thank you. I know that I was skeptical… but, boy has that changed. In fact, my entire outlook on my financial life has changed.
See, this afternoon I picked up a check for $16,574.47. It took me about 5-7 hours of "work" and I can't believe I'm looking at this check in front of me right now!
This business is absolutely amazing! It was totally painless getting to my check and all I did was follow your system the way you told me too. – James Eynon, Port St. Lucie, FL
What Will You Learn From Listening
To This 64 Minute FREE CD?
How I Started As a Dead Broke Vitamin Store Clerk, and Turned $10 into a Multi-Million Dollar Real Estate Empire, And How You Can Do It Too, Once You Understand How.
How to Get 80% of Your SHORT SALES Approved- and Buy Houses at 40-60% LTV or Less, So You Make Maximum Money in Minimum Time!
How to Get UNLIMITED FREE Pre-Foreclosure Leads, and How to Get an ARMY of People All Out Looking For Deals For YOU... FREE!
How to Make All the Money You Could Ever Want, and Never Be on the Hook for Another Monthly Payment Ever Again!
How to Profit From Foreclosures- Even If The Seller Won't Work With You!
HOW TO BUY AND SELL FORECLOSURES YOU'VE NEVER SEEN and Never Need to See!
Of course, I KNOW it sounds too easy and unbelievable…
I bet you're thinking "this can't really work" or "this is too good to be true" (heck, my wife Laura was skeptical, too, when we first got together, but the stream of checks pouring in since has made her a true believer!)
That's WHY I created this special "Tell-All" kit to explain the system in detail, absolutely free. You risk nothing. All I ask is that you provide for the shipping and handling of $4.77.
Click Here Now to Reserve Your FREE Kit!
And since I know it's 100% to your benefit to act right away, I want to sweeten the pot and give you every possible reason to say YES today! If you respond to this Special offer, you'll also receive the following:
Here's $516.97 In FREE Bonuses
You Get With This One Time ONLY Kit Offer!

5 6 FREE Items For Taking Me Up On This One Time ONLY OFFER:
Bonus #1: Free CD: "The ULTIMATE Foreclosure Profit Machine"
In this Ultimate Tell-All CD, I give you an inside look at a completely NEW, yet PROVEN, system for buying and selling foreclosures and preforeclosures that's so new, so revolutionary, it's created millions of dollars for the handful of people I've shared it with.. You'll uncover how I went from a broke vitamin store clerk to a Bonafide Real Estate Multi-Millionaire in just 23 months, once I unlocked the secrets I share on this incredible CD. Value: $47
Bonus #2: Jumpstart Coaching Call!
Free "Real Estate Millionaire in the Making" Jumpstart Coaching Call! Got a problem, or not sure what to do first, or next? This Jumpstart Call will fix your problem and steer you on the right track. This session could be the turning point in your life, money, and investing, …and it's totally FREE! Value: $297
Bonus #3: "ULTIMATE Foreclosure Profits" Teleseminar
This is the teleseminar where I shared my biggest secrets for tapping into the biggest surge in Real Estate Profits in 53 years- Foreclosures! Value: $47
Bonus #4: Free Trial Membership to my "Millionaire of the Month" Newsletter
As an added bonus, I would also like to give you a FREE 1 month trial to my Real Estate "Millionaire Maker" Newsletter and CD-Of-the-Month Club" today!
Here's what you'll get:
The Real Estate "Millionaire of the Month" Newsletter

where I reveal the exact profit-exploding tactics and advertising secrets I use in my million dollar Real Estate business. This will shave weeks or even years off your learning curve, and keep you from bleeding money on strategies that are either out of date or just plain don't work

The Real Estate "Millionaire of the Month" CD of the Month

where I 'spill the beans' (or I grill one of my experts and get them to spill the beans for you) on stuff 95% of people in their field don't even know! This will accelerate your learning and get you to ignore most of the shady advice being 'kicked around' on forums and $27 ebooks.
Like I said, you'll get to check out the journal and CD for a month to see how it will will take you to the next level. After your first month is over, you'll be automatically charged the lowest price that I offer our top clients, only $39.97 a month.
But here's the best part: If after the FREE month, or anytime thereafter, you want to cancel your newsletter subscription, simply give us a call at 561-623-8930 and my office will STOP charging you immediately. No questions, no hassles, no hard feelings. You must be completely satisfied. If not, I want you to cancel your membership. Value: $39.97
Bonus #5: "The Secret to Selling Houses in 7 Days" Teleseminar replay
On this BRAND NEW call, I reveal my secret "3 Step" strategy for selling houses in 7 days, in any market. Once you get over the fear of selling houses, fast, you can get down the business of making BIG money from opportunities, markets, sellers, and buyers that your competition throws in the trash! Value: $47
Bonus #6: "Secrets to Selling Houses" Transcript E-Book.
This is the PDF E-Book of the call above. Use it as you would a reference book, keep it handy for when you need to get your houses sold fast. Value: $39
Click Here to Get Your Free Kit!
"Okay, Jason. What's the Cost
of This Incredible Kit?"
That's the best part! This kit, with the over $516.97 in FREE and irreplaceable bonuses, are absolutely FREE. All I ask is that you pay the shipping and handling of $4.77.
Yes… you get the "ULTIMATE Foreclosure Profit Machine" CD, PLUS the teleseminar replays, the E-Book, the One-On-One Coaching call… everything I mentioned above, over $516.97 in Free Training and Bonuses, for just $4.77.
So what's the catch?
Why am I giving this kit away?
Well, it's really quite simple. Since you'll be getting the "ULTIMATE Foreclosure Profit Machine" on Audio CD instead of paying for a live event, I don't have to rent a hotel room, deal with vendors, or dry clean my (only) suit, so this way I can pass along my cost savings to you, and still deliver the same amazing secrets. (Of course, you can always call my office at 561-623-8930 to make sure we're for real!)
It's also an outright BRIBE from me to you, to get you to try out my Millionaire of the Month Newsletter and see for yourself how powerful my system truly is at changing your life.
So you win and I win.
Obviously, I wouldn't be doing this unless I though you were going to LOVE it and want more. I'm going to now challenge you to sign up for this free kit package. Take me up on my offer. I've got a lot to tell you.
Click Here to register, and get this life changing kit on it's way to you instantly. Do it now, while it's fresh in your mind. This is a limited time only offer, there's no telling when I might pull it down, and anyway, as fast as these kit's are selling, they won't be around much longer in any case.
Seriously, it's free. It's not a life or death decision, but this much I know for sure…
It's a Life Changing Decision.
You have nothing to lose and everything to gain! Click Here Now To Request Your FREE Kit, and start the first day of the rest of your life RIGHT!
Here's to your health, wealth, and success!
- Jason Loucks
P.S. I had to start from scratch and create a system for buying and selling houses that could make regular, upfront paydays- Cash Now- or I couldn't afford the costs of living long enough to get to my check! I also wanted to make enough long term wealth that I could retire early.
I'd like the same things for you, but I can't do it alone. You'll have to take that first step. I understand it's hard to tell the difference between real knowledge and crap, that's why I've created this kit and made it available free- so you can discover what thousands of other investors know- that I deliver the best, most cutting edge information in the business.
For the first time ever, you can avoid making the painful and costly mistakes that I made, and skip the difficult and expensive learning curve I had to go through!
But Click Here Now To Sign Up, because I've only ordered 500 of these special packages, and as of now 383 are already sent out. There are only 117 left, and when they're gone, they're gone for good.
Don't miss out- Click Here Now to Guarantee Your Free Kit!
Here's How to Reserve Your FREE
"ULTIMATE Foreclosure Profit Machine CD", PLUS Over $516 in Free Bonuses and
One-on-One Coaching!
In order to reserve your set of this Limited Time Only Offer, and receive over $516 worth of FREE Bonuses, just click the link below and get your kit before we Cut-Off this incredible package!


Just click the link above, and you'll be automatically taken to the Fast Response Form. Once there, simply fill out the form and your CD and Bonuses will be rush delivered right to your door!

Here's What Others Are Saying:

Dear Jason,
Here are my results since learning your course; One cash deal worth $25,000; one property at $355,000 (worth $460,000); and just recently a man called with 10 rental properties he needs to unload. I really feel what you are saying on your CDs, that it is great to approach this as someone who is helping people out of a dire situation.
-Christopher, and Karen Viera, Chicago, Illinois
Dear Jason,
Through your system, I have personally bought 5 properties and made over $45,000 cash, plus equity and cashflow! I made more in my spare time last year with your system, in just a few hours a month, than I made at my 40-50 hour per week job working for the Government! Let me tell you this: I recommended investing with you to my own Mother! I can't tell you anything more powerful than that!
-Doug Cosper, Arizona Department of Transportation, Phoenix AZ
________________________________________

Hi Jason!
I did just what you told me to do in your course, and on my very first deal made $69,990! I was afraid my wife would have to go back to work after our son was born, but that's enough for her to take a whole YEAR off!
- Carlos Quirch, Coral Springs

________________________________________

Dear Jason,
I am delighted to confirm that I have now completed my very first deal... I have just sold it… using all the techniques I learned from your Course. Nearly $50,000 profit!
-William Priddy, Westin, FL

________________________________________
Dear Jason,
This was exactly what we needed to get ourselves in the right path. You definitely have a unique system to have a real estate business. I know many people who have tried to do it with someone else and they're not making any substantial amount of money. If anybody wants to make money with real estate then your system is for them! On my first deal, I made $69,466! On my second deal, I made $8,000 in 10 days. On my third deal, which I'm selling now, I'll make OVER $80,000! Thank you,
-Andres F. Escobar, West Palm Beach

________________________________________
Dear Jason,
In the three weeks after learning your system, I bought 5 properties with no money down! Since then, I've also bought a 4 bedroom house for myself and my wife and kids, and got paid $16,000 at closing when we bought it! On my most recent deal, I made $18,876 in 17 days with no money down!
I can't possibly tell you how this training has changed my life. As a soldier in the U.S. Army, it's nice to know that even if something happens to me, my children and family's future is secure.
I also take great pride in knowing that I'll never have to settle for "average" ever again!
-Mike Garza, Palm Bay
________________________________________

Dear Jason,
Just wanted to tell you THANKS … I got your coarse 2 months ago and since have cashed 3 deals with little work and just contracted a fourth that was sold the same day... On my newest deal, I made over $8,000 and worked less hours than I ever have in my life!!! The cash is real and so is my new BMW as a result of it!!
-Spiro "Pete" Cardaris, Wellington, Fl
________________________________________

Dear Jason…
… This month's income will put me well over $112,000 CASH for
my very first year in the business and I'm still just cracking the
ice! I love this business Jason. And I thank you. I thank you for
teaching me the usefull and truthfull!
-James Eynon, Port St. Lucie

________________________________________
Dear Jason,
Just wanted to let you know how AWESOME my business is going! In the two months since hearing your course, I've already closed 1 deal and have two more under contract- just because I took one idea from your course and applied it! To date, that 1 idea has made me $10,000, plus I'll get another $33,000 when these other deals close!
- J.J. Mangan, Jupiter, FL
________________________________________

"Dear Jason, I just flipped a property and took home $34,399.40! I'm still in shock...
- Terri Miller, Ft.Lauderdale, FL
________________________________________

Hello Jason and Laura!
I'm on my way. I just collected my first $5,000 from my first deal. I'm about to do my next in a couple of days and will make $10,000 from this one. I can't tell you how good it feels to be able to finally do what I've always dreamed.
My finances were down to $0 dollars and I used my overdraft of $100 to contract my first deal and turned it into $5,000 in less than 3 weeks! I can't thank you enough.
I have top cash buyers hungry to do business with me. I'm looking forward to my future. Once again, your training has been a blessing.
Thank you! Thank you! Thank you! -Juliet Stewart, Atlanta Georgia